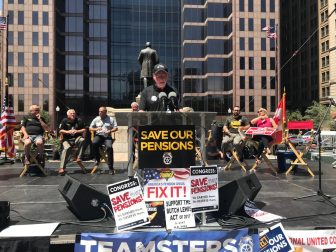 In a show  of solidarity, thousands of union members are rallying today for public pensions & retirement security at the Ohio Statehouse — until 3 p.m. The rally was mobilized by the pension action committees of the National United Committee to Protect Pensions — a collaboration of the Mine Workers, Teamsters, Bakers, Steelworkers and the Ohio AFL-CIO.
The rally coincides with a field hearing scheduled for Fri. July 13 by the Joint Select Committee on the Solvency of Multi-employer Plans. The Joint Select Committee, created by Congress in a bi-partisan budget deal  based Butch Lewis Act that was introduced at the end of the 2017 term.
The committee is charged with developing a consensus solution to the multi-employer pension crisis affecting families across America. U.S. Senators Orrin Hatch (R-UT) and Sherrod Brown (D-OH) serves as committee co-chairs. Senator Rob Portman (OH) is also a member of the committee. The varied union groups are calling for the committee to find a legislative solution to the pension crisis.
The Joint Select Committee has created an additional platform for interested parties to submit input by emailing: JSCSMPP@finance.senate.gov. The deadline to respond is Sept. 30, 2018.
Additional News Links
07.13.2018 Cleveland Plain Dealer: Multi-employer pension rally draws thousands to Ohio Statehouse
07.11.2018 WOSU 89.7FM: Unions Prepare Rally At Ohio Statehouse

Oh Yes, We're Social — Join the Conversation!